GENERAL INFORMATION
Patras Science Park (PSP) was established according to the model of "Incubator" for New Technology Based Firms (NTBFs). The main scope is to provide high quality infrastructure as well as co-shape the appropriate financial and social conditions that will support and promote the creation, operation and development of innovative firms through spin-off/spin-out processes and intensive technology transfer actions such as the cooperation among Universities, Research Centers and the Industry in local and national level. For almost 30 years, PSP supports the growth of innovative, technology based companies across several sectors such as ICT, biotechnology, clean energy and other industrial technologies, contributing to the City Region's knowledge economy. The majority of the companies demonstrate a high degree of extroversion.
In the past, several companies needed to expand and "migrate" in other facilities or cities, but still retain their membership and actively contribute to the existed technological ecosystem. PSP presents a good record of such companies like CBL, Antcor, Bytemobile, Nanoradio, Atmel, Velti, Helbio and Codefunnels. On the other hand, large multinationals such as Citrix, Samsung and Dialog have established business units in the area/region to strengthen their R&D activities, whilst acquiring companies created and developed in PSP.
Furthermore, leading companies in their field (Think Silicon, Advent, Brite) have chosen PSP as their base in the area, whereas other prominent companies or Institutes participate in tenant's capital share, securing and enhancing the important role of PSP in the national innovation and technology intensive entrepreneurial system.
Today, PSP is home of 40 companies, 1 Research Institution (ISI) & 1 Competence Center, (Hellenic Center for Additive Manufacturing), employing nearly 150 highly skillful personnel in areas such as engineering, chemistry, physics, and medicine.  These companies are catered with a mix of high quality office space, technical infrastructure and supportive administrative and business services.
More information about tenant companies you may find in the link: http://psp.org.gr/en/campus-companies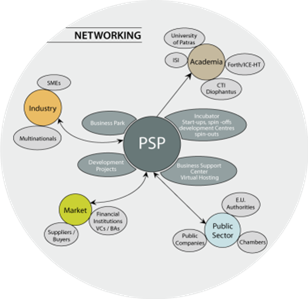 TECHNOLOGY TRANSFER OFFICE (ΤΤΟ)
Technology Transfer Office is bringing the productive sector closer to academia, research institutions and research organizations aiming to identify, monitor, commercialize and manage intellectual property produced in the regional ecosystem. Moreover, in cooperation with other PSP units and the ecosystem's stakeholders, PSP initiates activities such as industry and academia collaboration, organizes workshops and training programs targeted to ecosystem partners and continuously maps ecosystem activities in order to engage external partners to its actions. Specifically, the actions include the following amongst others:
Scouting and monitoring of research teams and technologies
Cooperation with companies willing to introduce new technologies or innovations in their production processes
Build strong bonds and long term relationships between researchers and industry
Use of scientific and technological equipment
Intellectual Property Rights management
Exchange of good practices for supporting entrepreneurial culture
Initiation of "proof of concept" projects and open innovation schemes
Networking with other TTO's in Greece and abroad
Furthermore, PSP has established 8 Innovation HUBs (NanoTechnology HUB, Aroma HUB, BioHealth HUB, Smart Cities HUB, Clean Tech Energy HUB, Aeronautics HUB, Blue Innovation Hub, Kanabis Hub) in the field of:
NanoTechnology
Agrifoods
BioHealth
Smart Cities
Renewable Energy Sources
Aeronautics
Blue Growth
Kannabis
These 8 Innovation HUBs have been established in selected research and technology sectors in which/where the region presents characteristics of research excellence, competitive advantage, uniqueness, high degree of innovation (industry disruptors), extroversion, and capacity to enter the market and attract a critical mass. The objective of these HUBs is to engage research labs, companies and students in cooperative projects, design new products or processes and establish entrepreneurial ventures. Proof of Concept (PoC)
PSP through the PoC financing tool, supports innovation and entrepreneurship, focusing on the dynamic development of new companies throughout Greece with a view to expand their commercial activities to the global market. PSP is running the Proof of Concept (PoC), with the financial contribution of affiliated companies and large benefactors.
The aim of the financial tool is to support annually up to 10 scientific / research ideas, with up to € 50,000 each, in order to mature and commercially exploit such innovative research products/services and create new enterprises/startups. The "Proof of Concept" financial tool is open to researchers and research companies based in Greece. In its first 3 rounds it supported 8 exciting new concepts to undertake product development and establish commercial viability. Each award in this national programme supports innovative academics and entrepreneurs to bridge the gap in a sustainable way between lab and the market – crossing the infamous technology valley of death where do many great ideas fail for lack of access to both product development and commercial development support.
In this context, BIOPIX-T a spin-off biotechnology company registered in Crete, was created on December 2019, and soon received significant distinctions and awards. BIOPIX-T is the 1st success story of PSPPoC, being the first team to stand out at the beginning of the PoC programme (November 2018).
Confirmation of the value of the PoC financing tool came also with funding from national and international VCs such as Metavallon, Eleven etc. Each investment round is joined by strategic angel investors from specific sectors.
Business Innovation Center (BIC) of CERN
PSP is the Business Incubation Center (BIC) of CERN in Greece. The BIC of CERN aims to provide support to new entrepreneurs in order to exploit technologies developed by CERN and to create new products and services. Entrepreneurs who are looking for a new challenge or to create a small technology company they have a great opportunity gain access to CERN's technology and know-how, one of the biggest research centers in the world. PSP BIC of CERN Technologies offers financing, hosting, support and technical assistance to new entrepreneurs and small technology companies to accelerate their growth and create new products and services.
Moreover, Patras Science Park supports Orange Grove an initiative that is being run by a team of the local start up ecosystem. Orange Grove is a flexible workspace and pre-incubator for young entrepreneurs aspiring to become a catalyst for the development and growth of the local startup ecosystem in the area of Western Greece. Orange Grove aims to provide an alternative path, countering youth unemployment and brain drain in Greece. At Orange Grove young entrepreneurs will find assistance, cooperation, mentoring from a network of experts and inspiration with the aim to form innovative and successful startups, capitalizing on the unexploited opportunities of this area and beyond (human capital, geographic location, infrastructures).
Industrial Property Organization
PSP operates at its premises, the Industrial Property Organization Regional Sub-Offices as a local contact point for first communication and direct information to interested parties (SMEs, Academic Institutions of all levels, Technological Centers, Research Institutes, Young Entrepreneurs, Startups, individuals, bodies etc.) in matters of industrial property protection, as well as diffusion of technological information. The Regional Sub-offices provide:
– technological information for Patents at National and International level
– information & personalized assistance on industrial property protection & research results
– information to the public
– transfer and diffusion of technological information to any interested party in Greece
– printed information related to the Organisation and its services, as well as application forms for protection titles
– assistance and guidelines to the applicants regarding/on the filling of applications for protection titles (Patents, Utility Models, Designs). The available information at this level is enough to get knowledge of the level of the prior art at a first stage and to apply for "pre-research".
Further information regarding other important activities of PSP, can be found through the following link: https://psp.org.gr/main activities